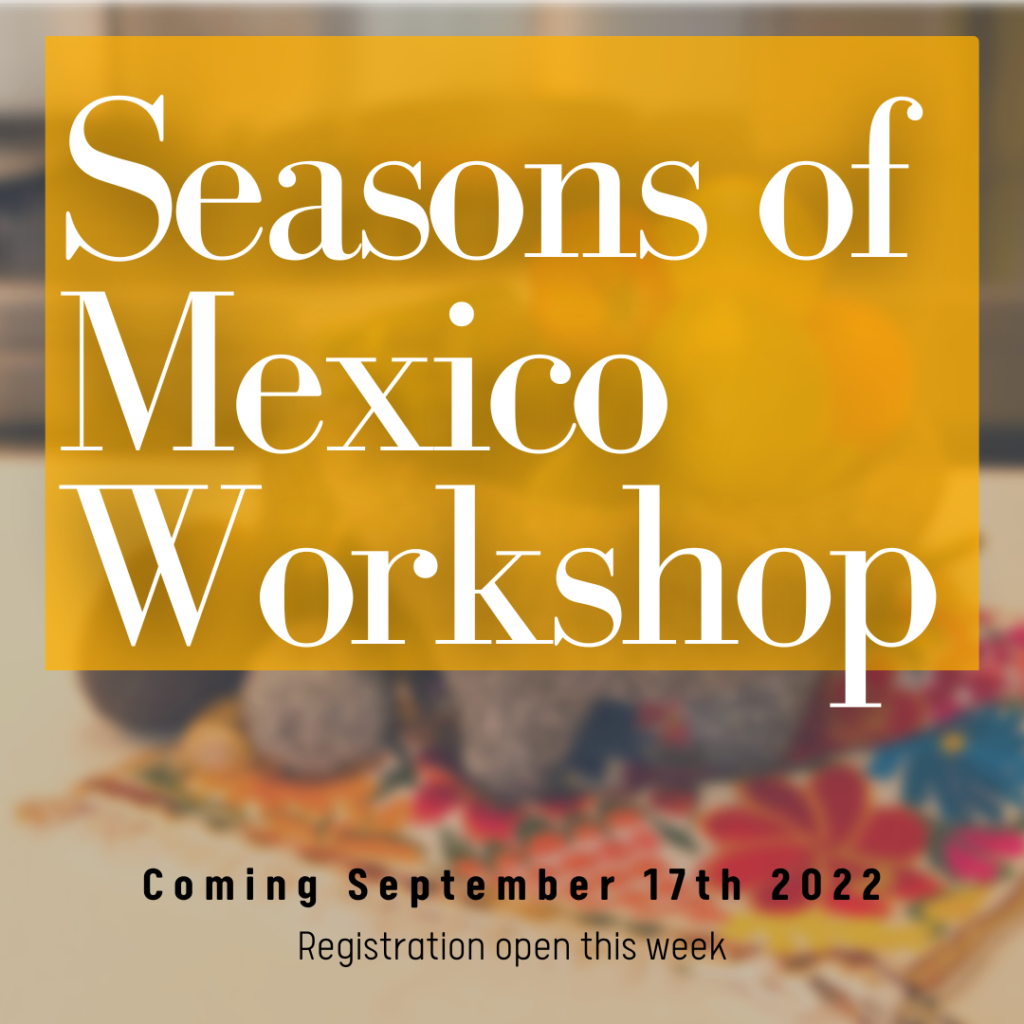 New Workshop Alert
This workshop focuses on celebratory dishes of Mexico that are available throughout the seasons. This workshop will be available throughout the year with a changing seasonal menu.
To launch this unique workshop we will celebrate Mexico's Independence Day and its most traditional and coveted dish Chile en Nogada.
A stuffed poblano pepper dish smothered in a white goat cheese and walnut sauce.
Join the celebration al estilo Mexicano.
Workshop Menu
September 15th is el grito or the independence of Mexico. We celebrate in a big style with music, beers, and of course amazing food in specific a delicious chile en nogada. This dish is only available from August 15th – September 15th in Mexico and most people have a place, person, or restaurant they book in advance. In this workshop we are celebrating the independence of Mexico with this traditional dish called Chile en nogada. A stuffed poblano pepper dish smothered in an elegant goat cheese and cream sauce, topped off with parsley and pomegranate.
Vegan version available please let us know via email if you need a vegan dish.
Chile en Nogada – Stuffed poblano with chicken picadillo, smothered in walnut goat cheese cream.
White Rice
Bread
Jamaica spritzer – Homemade hibiscus flower syrup
Dessert – Gelatina tri color – Kanten jello mexican style
---
History on this traditional and seasonal dish.
The origin story of Chiles en Nogada goes back to August 1821 when the sister of Santa Monica Convent in Puebla wanted to welcome Agustin de Iturbide with a very special meal after he just had signed the Declaration of Independence and he was passing by through Puebla. They collected some of the ingredients that were in season during the month of August and they came out with this recipe. Some of the unique ingredients include criollo fruits such as pear, apple, and peach. The colours of the ingredients on it are related to the colors of the Mexican flag, the Poblano pepper is the green colour, the Nogada sauce is the white and the pomegranate seeds are the red, making it the most patriotic dish to celebrate Mexican independence. In the original recipe the poblano pepper is battered with egg and then fried in oil before putting the nogada sauce. Although there is much debate of the versions and authentic recipes in this workshop we will show you how to create a simple version using seasonal ingredients available in Japan.
Workshop Details
Date: Saturday September 17th 2022
Times: 11:00 – 13:30 & 15:00 – 17:30
Location: Plat 295
Fee: 8,800円 *tax included
8 participants max per session
Each participant will get 3 chiles en nogada!
Includes: drinks, ingredients, recipes!
Reservation
Please select the time session you would like to attend. If you are signing up for multiple people please adjust the quantity in the left side of the payment window if you are on PC or upper left side on `details` on your smartphone. We will send you an email closer to the event date with details and location. Please provide an active email at the payment portal so we can contact you.
---
Notice
Cancellation and Payment Policy
Kindly make the payment within 24 hours of receiving the payment link.
Cancellations must be done 48 hours in advance for a full credit. No credit for same-day cancellations. We understand life happens and under extreme circumstances, we are willing to reschedule the workshop. Please note that we are a small business that supports other local businesses. When you schedule a workshop we work hard to give back to the community and source the freshest ingredients possible, even if the workshops are online. We believe in giving back to the community and supporting small and local shops. Thank you for your cooperation.