Welcome to our Mexican Bread Masterclass, led by Alejandra our expert culinary instructor who has studied the art of Mexican bakery in Mexico City.
In this course, you will be immersed in the delicious and diverse world of Mexican baking. You will learn how to create both sweet and savory baked goods using traditional Mexican ingredients and techniques in Japan.
You will learn about the history and cultural significance of this beverage, as well as how to prepare it using authentic Mexican ingredients.
Throughout the masterclass, our culinary instructor will share their knowledge and passion for Mexican baking, providing valuable insights and tips for creating delicious, authentic breads in you Japanese kitchen.
Whether you're a baking enthusiast or simply looking to expand your culinary horizons, this Mexican Bread Masterclass is the perfect way to explore the rich flavors and traditions of Mexican cuisine.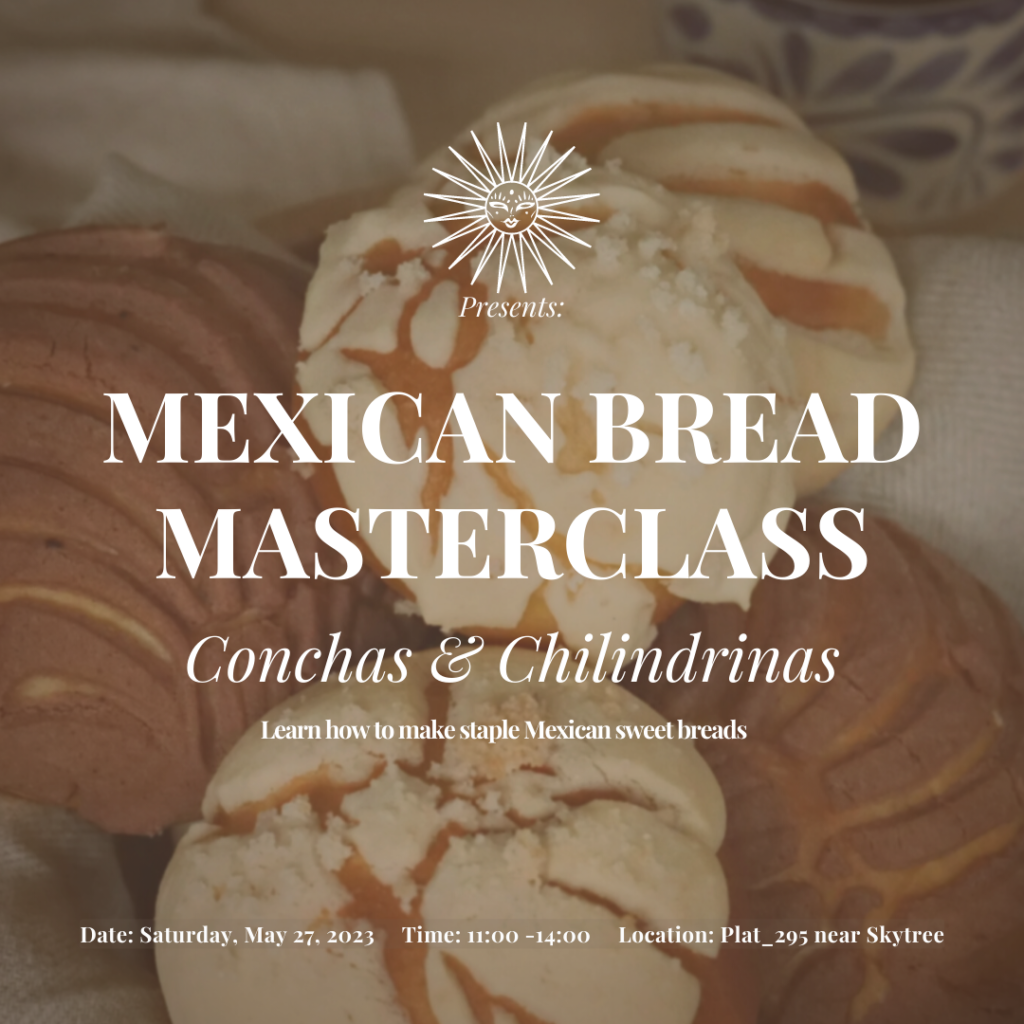 Mexican Bread Masterclass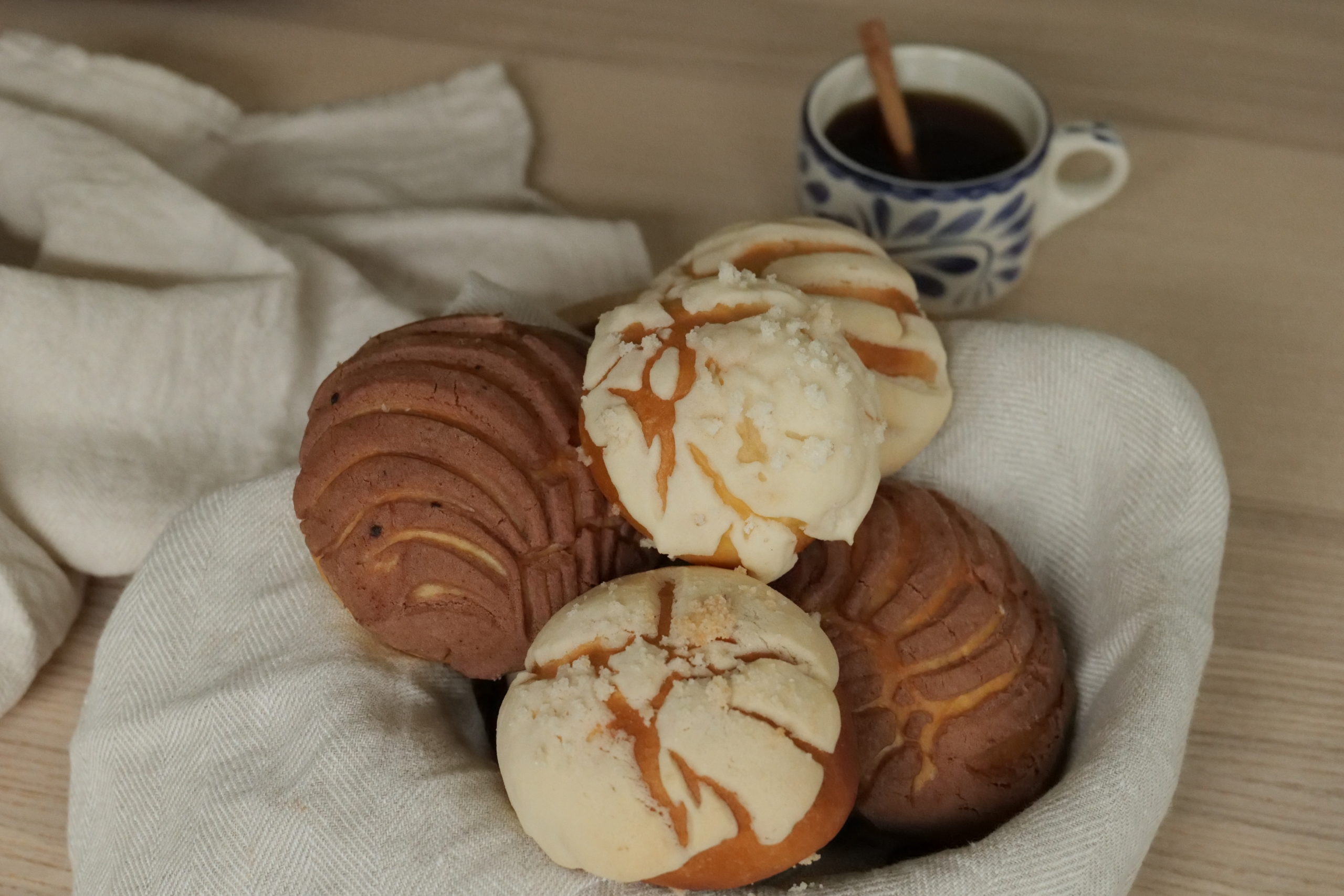 As part of our launch, we will be exploring two classic Mexican breads, the Concha and the Chilindrina. Similar to Japan Melon pan. You will learn how to make these iconic breads from scratch, from mixing the dough to shaping and baking them to perfection.
But that's not all! We will also be making a traditional Mexican chocolate drink to accompany our breads. This class is 3 hours, you will make the bread from scratch each participant takes home a total of 6 breads.
Masks are not mandatory and will be left at the discretion of the participant.
Date: Saturday, May 27, 2023
Time: 11:00 -14:00
Location: Plat_295
Fee: 9,900円
Includes: Recipes, ingredients & materials, drinks.
Menu
Conchas and chilindrinas are two types of sweet bread that are popular in Mexican cuisine.
Conchas, which means "shells" in Spanish, are a type of sweet bread that is typically round in shape with a crumbly, sugary topping that resembles a seashell. The dough is made from flour, yeast, sugar, eggs, and butter or lard, and can be flavored with vanilla or cinnamon. Conchas are often enjoyed for breakfast or as a snack with coffee or hot chocolate.
Chilindrinas, also known as chilindrinas de canela or "cinnamon chilindrinas," are a type of sweet bread that are similar in shape to conchas but with a different topping. Instead of a sugary shell-like topping, chilindrinas are dusted with cinnamon sugar, giving them a sweet and slightly spicy flavor. The dough for chilindrinas is similar to that of conchas, made with flour, yeast, sugar, eggs, and butter or lard, but with the addition of cinnamon for extra flavor.
Both conchas and chilindrinas are beloved in Mexican cuisine and are often found in bakeries or sold by street vendors. They are a tasty treat that can be enjoyed any time of day and are a delicious representation of Mexico's rich culinary traditions.
Chilindrina
Concha – Chocolate and Vanilla
Mexican chocolate drink
Book a Class
Please note that your class booking is non-refundable, and we have a strict no cancellation policy. We do not allow rescheduling of classes or participant swapping, so please make sure to mark your calendar and plan accordingly before purchasing a culinary experience.
Closer to the date of your class, we will send a friendly reminder email with all the necessary details and the location of the class. We want to ensure that you have all the information you need to fully enjoy your experience with us.
Please provide a working email so we can contact you. If you are booking for another guest please add their email address. Additionally if you have other requests you can add it on the name/ note section.
Book directly via our Stripe payment portal below:
Mexican Bread Masterclass Saturday May 27th: Time: 11:00 -14:00
About our Culinary Instructor
Cancellation Policy
We're excited to have you join us for our culinary experience! Before you make your booking, we'd like to let you know about our cancellation policy.
Unfortunately, we do not allow cancellations, rescheduling of classes, or participant swapping, as we have a strict no cancellation and non-refundable policy. We kindly ask that you mark your calendar and plan accordingly before making your purchase.
As your class date approaches, we'll send you a friendly reminder email with all the necessary details and the location of the class. We want to make sure you have all the information you need to fully enjoy your experience with us.
To ensure we can reach you with any updates or reminders, please provide us with a working email. If you're booking for another guest, please add their email address. And if you have any special requests, feel free to add them in the note section.
We want to make sure all our participants have a safe and enjoyable experience. While we won't be enforcing a mask rule, we do encourage all participants to refrain from attending the class if they're feeling unwell. We appreciate your cooperation in keeping our community healthy.
General Terms and conditions when attending Nippon Viajero culinary activities
RIGHT TO REFUSE:
Nippon Viajero holds the right to refuse a participant to attend a class if the instructor feels they are intoxicated or may cause harm to themselves or anyone else attending the activity
RELEASE OF LIABILITY: When participating in a Nippon Viajero cooking class where the participant will be around or using sharp and potentially dangerous tools suitable to a kitchen environment, the participant releases, indemnifies and excludes Nippon Viajero and its employees from any and all liability of any kind for any damage or injury incurred while attending or visiting Nippon Viajero cooking classes.
The participant understands these terms and conditions and accepts the inherent risks of a kitchen environment when they book and make full payment for a cooking class.
START TIME: Classes run by Nippon Viajero start on time. If you are not on time for the cooking class, we will proceed without the participant and they will be considered a no-show. We have a strict no refund no cancellation policy.
DAMAGE/LOSS OF PERSONAL PROPERTY: Nippon Viajero will take all necessary care but does not accept responsibility for the damage to or loss of merchandise left in the venue prior to, during or after a class. Nippon Viajero is not responsible for the loss or damage of personal items in any form.
DAMAGE/LOSS OF NIPPON VIAJERO PROPERTY: The participant may be held financially responsible for any damage to or loss of Nippon Viajero property during the class. The cost of repairing any damage to walls, doors or other parts of the property as a result of inappropriate conduct will be charged to the person involved.
CIRCUMSTANCES BEYOND THE CONTROL OF NIPPON VIAJERO:
Nippon Viajero will be unable to provide for your class due to circumstances beyond their control, Nippon Viajero, is not responsible for any costs, damages or expenses that you may suffer or incur.
WEBSITE: This website is owned and operated by Nippon Viajero. The use of this website is subject to our terms and conditions.
Past baking classes with Nippon Viajero