Fall/ Winter 2022 Events & Cooking Classes
October 2022
#1 Culinary Workshop
Recommended by Time out Tokyo
This is Nippon Viajeros must try workshop. With a changing menu year long. Learn how to make a taquiza at home and where to source ingredients in Japan!
This will be the last Tacos Class of the year 2022. Join us for an truly unique menu. Birria, plus learn how to make nixtamalized heirloom pink and black corn tortillas.
Sat. October 15th, 2022
October 2022
3rd Annual Dia de Muertos Event Tokyo
Baking & Crafts Class for Adults
In Mexico, Día de Muertos is a time to celebrate family members who are no longer with us.
During this time we make Pan de Muerto an orange blossom infused sweet bread, hot chocolate or as we call it chocolate caliente, sugar skulls, ofrendas, altars, and more! In this workshop you will learn how to make traditional Pan de Muerto and Mexican hot chocolate, plus a sugar skull to decorate and take home.
Join us for a unique opportunity to celebrate Día de Muertos ( Mexican Obon) in Tokyo!
Sunday Oct. 30th , 2022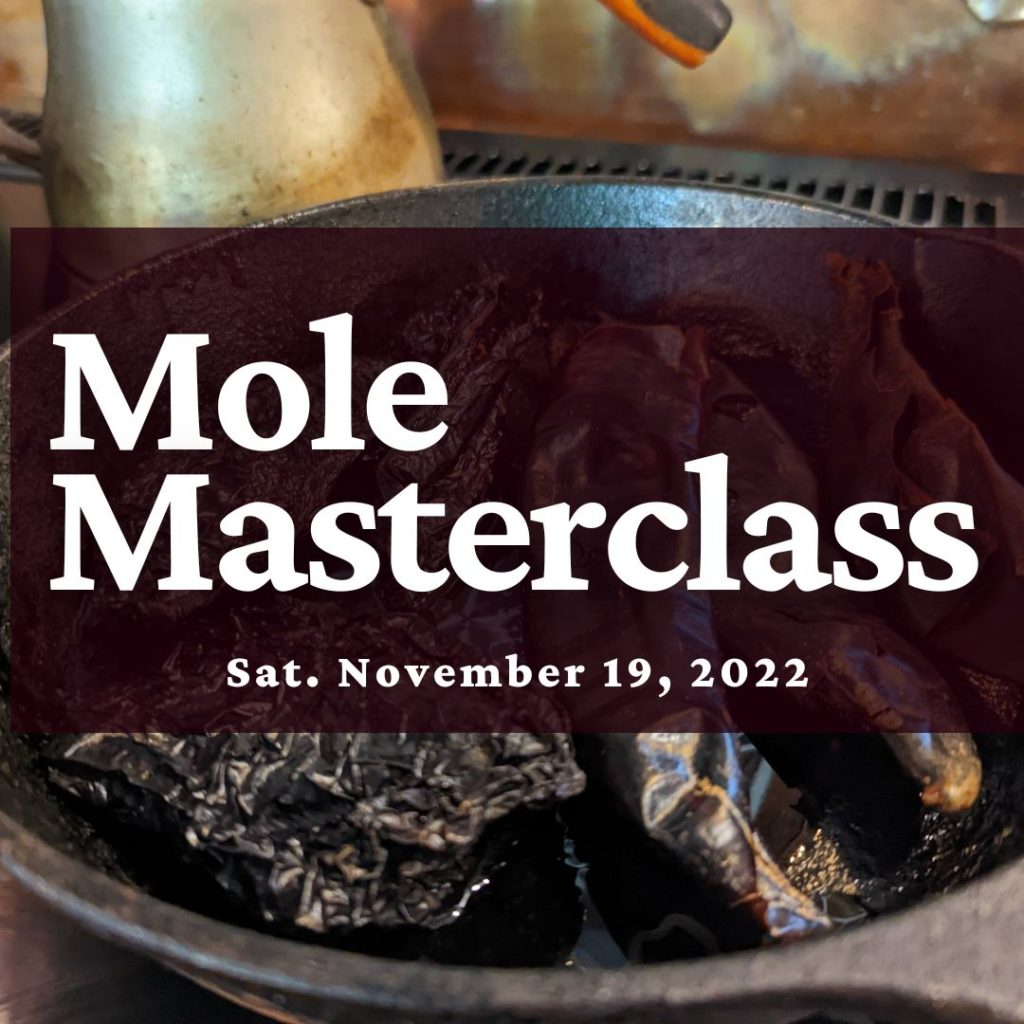 November 2022
New Masterclass
Mole can be dated back centuries and can be both a ceremonial dish and an everyday meal depending on the celebration and preparation.
In this masterclass we will tackle two mole preparations one that can be considered ceremonial and one that is easy peasy lemon squeezy.
Join us in yet another unique culinary experience in Japan.
Sat. November 19th, 2022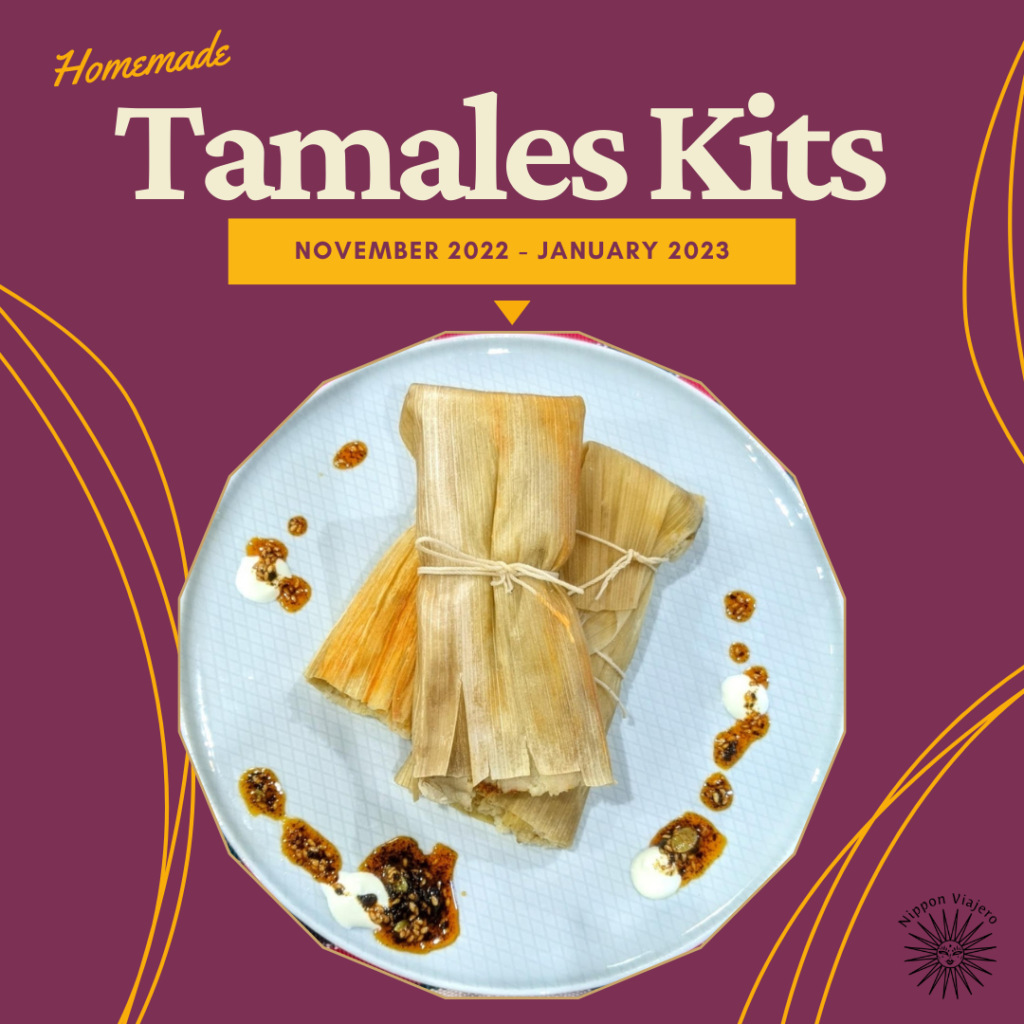 November 2022
Homemade Holiday Tamales
The best tamales in Japan!
In Mexico there are many types of tamales. Tamales are a corn masa based dish stuffed with a filling of choice (meat, cheese, veggies, etc.) wrapped with dried corn husks and then steamed.
This year Nippon Viajero is sharing a piece of Mexican Holiday season with you!Limited orders accepted.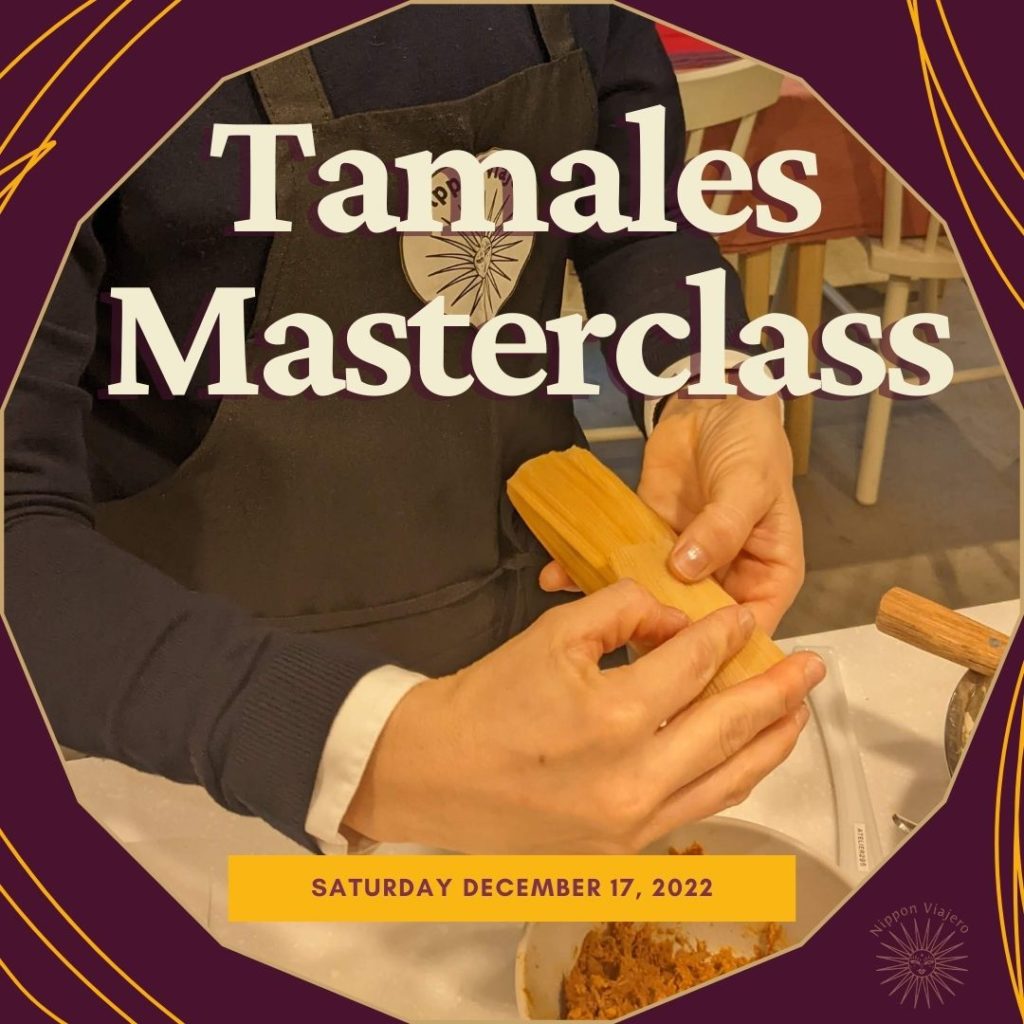 December 2022
Favorite Holiday Event
Learn how to make tamales!
In this workshop we will cover the techniques to make tamales. An emblematic Mexican dish with more than 500 years of history.
The class duration is 3 hours, you will make tamales from scratch. Vegan version available!
Saturday December 17, 2022
News
September 2022
New Nippon Viajero Member
¡Hola!
I am Alejandra, the new Culinary Creative for Nippon Viajero.
I am from Mexico City and have been living in Tokyo for 7 years I am passionate about food and the creative process behind it.
I believe that the best history is made in the kitchen and the most memorable conversations happen at the table while sharing a meal.
I am excited to meeting and sharing all the new things we have in store for you.
Mucho gusto y よろしく!
🦋 Ale
Follow my creative writing project about gastronomy in Japan @madameichigo
Past Events
8.29.2022
Event
Nippon Viajero had such a nice summer filled with new adventures, yummy food, and sunny days. Thank you all who stopped by this summer and supported our endeavours. We hope you enjoyed the food and the atmosphere. As we transition out of summer we still have a lot more events to come! Are you ready?
08.13.2022
Event
Nippon Viajero is participating in a unique culinary experience. Modern Mexican cuisine meets Art. In this event we are collaborating with sustainable artist Melissa Finkenbeiner and bringing you an Art & Food pairing experience.
Thank you all who joined the art and food pairing event. We got to taste the local fruits and vegetables of Hayama while enjoying Melissa`s beautiful art pieces.
7.31.2022
2nd Annual Summer Harvest Workshop
Each year Nippon Viajero strives to connect the community with a small farm / farm lifestyle. This year we are offering a unique experience to tour the beautiful Himistu Noen located in Uenohara near Takao station.
A big thank you to Brian and SUn for hosting the second annual workshop at their beautiful home! We had lots of fun harvesting, cooking, and eating.
Next Summer Harvest Workshop: July 2023