Nippon Viajero is proud to present our first ever Latin-American workshop!
This is a collaboration with Xicis Homecooking.
---
Meet the culinary instructor
Ximena is the founder and culinary instructor for Xicis Homecooking. She is a mother, ceramist, friend, cultural ambassador and fellow cooking aficionado. She will guide you into the world of Latin America with a twist of El Ecuador with all its beautiful aroma and flavors here in Japan. Join us for this unique culinary experience.
Ximena is from Ambato, Ecuador located two hours south from the Equator! She has lived in Japan for over 9 years and is currently in Tokyo.

Follow her Instagram below for more events about Ecuadorian culture in Tokyo.
Instagram: @xicishomecooking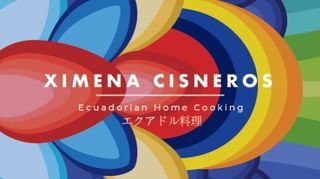 ---
Workshop Details
Date: Saturday, April 9th, 2022.
Times:
11:00 – 13:30 ( 1 spot left)
15:00- 17:30 ( waiting list)
Location: Plat925 near Tokyo Sky tree. Closest station is Oshiage.
Fee: ¥7,700 tax included. Includes all recipes, ingredients, and drinks.
Maximum of 7 participants per session.
Each participant will make 6 empanadas 3 of each kind.
The duration is 2 hours 1/2.
Please wear masks at all times except when eating and drinking.
Refrain from participating if you feel ill or have come into contact with someone + for COVID-19
---
---
Workshop Menu
In this workshop you will explore the world of Latin-American and learn how to make two types of empanadas filled with authentic sofritos, two types of sauces, and an authentic Ecuadorian pineapple drink. Empanadas is a popular dish in all of Latin-America that can be made from wheat flout or corn masa. Usually filled with different fillings and topped off with salsas.
Empanada de Carne: Classic meat empanada made with sofrito of onions, garlic, red pepper, cilantro and spices.
Empanada de Cebolla: Inspired in an old Chilean recipe, this empanada is filled with caramelized onions flavored with a touch of paprika, cayenne and cumin.
Salsa Chimichurri: An Argentine favorite, this salsa is the perfect combination of herbs, garlic and red chilis.
Salsa de Ají: A must on the Ecuadorian table, this tomato based sauce blended with cilantro and lemon juice can be the perfect complement for any dish.
Agua de Piña: Pineapple drink infused with mint.
---
Reservation Form
Please fill out the form below to sign up for the Empanadas Workshop. Once you have signed up we will send you an email with the payment details. Please make payment within 24 hours of signing up to finalize the reservation.
---
Cancellation and Payment Policy
Cancellations must be done 7 days in advance for a full credit. Half credit for 4 days before the lesson and no credit for 72 hour cancellations.
Please note that we are a small business that supports other local businesses. When you schedule a workshop we work hard to give back to the community and source the freshest ingredients possible, even if the workshops are online. We believe in giving back to the community and supporting small and local shops.
Please note the credit is only transferable once and it must be used within 6 months of the initial cancellation otherwise the credit will be lost. Credits are non-transferable to other participants.
Thank you for your cooperation
General Terms and conditions when attending Nippon Viajero culinary activities
RIGHT TO REFUSE:
Nippon Viajero holds the right to refuse a participant to attend a class if the instructor feels they are intoxicated or may cause harm to themselves or anyone else attending the activity
RELEASE OF LIABILITY: When participating in a Nippon Viajero cooking class where the participant will be around or using sharp and potentially dangerous tools suitable to a kitchen environment, the participant releases, indemnifies and excludes Nippon Viajero and its employees from any and all liability of any kind for any damage or injury incurred while attending or visiting Nippon Viajero cooking classes.
The participant understands these terms and conditions and accepts the inherent risks of a kitchen environment when they book and make full payment for a cooking class.
START TIME: Classes run by Nippon Viajero start on time. If you are not on time for the cooking class, we will proceed without the participant and they will be considered a no-show. Neither partial nor full credits will be given.
DAMAGE/LOSS OF PERSONAL PROPERTY: Nippon Viajero will take all necessary care but does not accept responsibility for the damage to or loss of merchandise left in the venue prior to, during or after a class. Nippon Viajero is not responsible for the loss or damage of personal items in any form.
DAMAGE/LOSS OF NIPPON VIAJERO PROPERTY: The participant may be held financially responsible for any damage to or loss of Nippon Viajero property during the class. The cost of repairing any damage to walls, doors or other parts of the property as a result of inappropriate conduct will be charged to the person involved.
CIRCUMSTANCES BEYOND THE CONTROL OF NIPPON VIAJERO:
Nippon Viajero will be unable to provide for your class due to circumstances beyond their control, Nippon Viajero, is not responsible for any costs, damages or expenses that you may suffer or incur.
WEBSITE: This website is owned and operated by Nippon Viajero. The use of this website is subject to our terms and conditions.
---