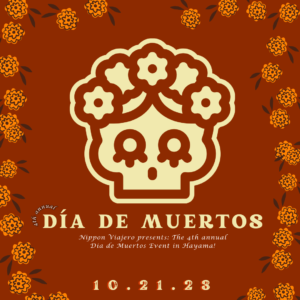 Day of the Dead Event (4th annual Dia de Muertos Event in Hayama)
Please join us for this unique opportunity to celebrate Día de Muertos (Mexican Obon) in Hayama. Where we will host our annual family friendly celebration for all ages! We will be opening our café and serving a special Mexican bakery and artisanal drinks perfect for fall, as well as a Mexican goods pop-up by La Puerta and Nippon Viajero. Bring the kids and sign them up for our Piñata decorating workshop where they will learn all about Dia de Muertos and decorate their own sugar skull piñata. We will also have face painting available for free!
Pinata Calaverita Kids Workshop
Participation fee for the workshop: 4,000 yen (includes bread, hot chocolate, piñata, and decoration materials)
Time: 13:30-14:30
Time: 15:30-16:30
Location: Moshimo Cafe in Hayama
Application deadline: October 15, 2023
There is a capacity for each session
Mexican Bakery Pop-up: 11:00 – 17:00
Face painting: 13:30 – 15:00
Mexican goods pop-up by La Puerta: 11:00 – 17:00
The workshop will be held in English!
Día de Muertos (Spanish: Day of the Dead, All Souls' Day) is a traditional Mexican culture and custom. Especially in Mexico, the purpose is to remember the dead, give thanks, and share the joy of life. This tradition is one of the most important in Mexico and is celebrated annually on November 1st and 2nd, although in some regions the festival begins from October 31st to November 4th. It is similar to Obon in Japan, but is celebrated in a cheerful and fun way. The motif is not the fear of death, but rather the mockery of death.
Bread on the Day of the Dead: represents the spirit of hospitality and the bounty of the earth. The shape of the bread also resembles the skulls and bones of the dead. It is sweet, and there are many different ways to prepare it depending on the region of Mexico. Enjoy with delicious Mexican hot chocolate.
A piñata is a paper doll filled with sweets, toys, etc. that is used at children's festivals (birthdays, etc.) in Mexico and other Central and South American countries.
[以下日本語]
メキシコ死者の日イベント (第4回 ディア・デ・ムエルトス・イベント in 葉山)
メキシカン・ベーカリー・ポップアップ&キッズ・ワークショップ メキシコでは。葉山でディア・デ・ムエルトス(メキシコのお盆)を祝うまたとない機会にぜひご参加ください。
ピニャータ カラベリタ(ドコロ)デコレーション こどもワークショップ 参加費:4,000円(パン、ホットチョコレート、ピニャータ、デコレーション材料費込み)
時間:13:30~14:30
時間:15:30~16:30
申込締切 2023年10月15日

各回定員あり

メキシカン・ベーカリー・ポップアップ: 11:00 – 17:00

フェイスペインティング: 13:30 – 15:30

メキシコ雑貨のポップアップ : 11:00 – 17:00

ワークショップは英語で行われます!

ディア・デ・ムエルトス(スペイン語:死者の日、万霊節)は、メキシコの伝統的な文化・習慣である。特にメキシコでは、死者を偲び、感謝を捧げ、生きる喜びを分かち合うことを目的としている。この伝統はメキシコで最も重要な習慣のひとつで、毎年11月1日と2日に祝われるが、10月31日から11月4日にかけて祭りを始める地域もある。日本のお盆に似ているが、陽気で楽しく祝われる。モチーフは死の恐怖ではなく、むしろ死を嘲笑することである。

死者の日のパン:

もてなしの精神と大地の恵みを表す。パンの形も死者の頭蓋骨や骨に似ている。甘く、メキシコの地方によって様々な調理法がある。メキシコの美味しいホットチョコレートと一緒に楽しむ。

ピニャータ(piñata)は、メキシコや他の中・南米の国の子供のお祭り(誕生日など)に使われる、中にお菓子やおもちゃなどを詰めた紙製のくす玉人形のこと。
Nippon Viajero
Average rating:
0 reviews